« Return to previous page
Walex Urinal Blocks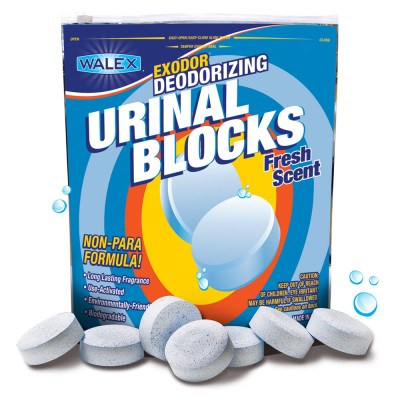 Walex Urinal Blocks
---
Walex Deodorizing Urinal Blocks are a technically advanced nonpara tablet that helps deodorize and clean urinals.
The long lasting controlled release fragrance assures urinals and restrooms remain fresh over time.
The unique use-activated feature delivers additional odor control when the block is utilized.
1 Box contains 5 bags of 30 pieces.
---
---
Description

Product Description

Walex Deodorizing Urinal Blocks are a technically advanced nonpara tablet that helps deodorize and clean urinals.
The long lasting controlled release fragrance assures urinals and restrooms remain fresh over time.
The unique use-activated feature delivers additional odor control when the block is utilized.

• Powerful Performance
• Non-para formula
• Long lasting fragrance
• Use-activated
• Environmentally friendly
• Biodegradable